Here's to a Healthy and Happy 2017 to all our friends and family!
2016 was full of fun and adventure for Milton and me, despite a rocky recovery from hip replacement surgery (Shellie) and a tumultuous election season (America).
Heliskiing in British Columbia was sublime as ever this year, and especially enjoyable sharing the experience with friends from Colorado. We had great weather, fresh snow and all the skiing our legs could handle!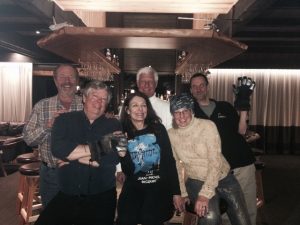 Shellie's sister Jill came to town and helped out with the Denver Summer Art Market, where dad Al's paintings were a big hit–still plenty of inventory left in our Silverthorne attic gallery, but he was delighted to see the Denver community appreciate his work. He will join a Denver gallery in the summer of 2017 in a brand new building.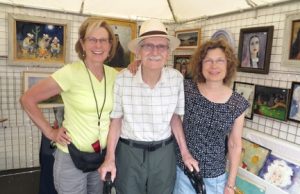 Milton and I spent a month of our fall touring Ireland and Tuscany on bikes, preceded by a road trip through southern and western Ireland humiliating ourselves on their hallowed links courses. Fortunately for us the rain gave way to clear skies for our golfing days. We now have a clear understanding of what makes Ireland so green!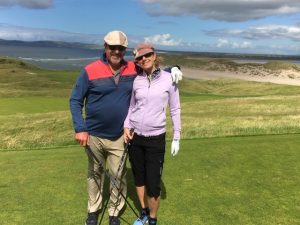 We also worked in a trip to Providence for a Patriots game and tailgate hosted by Milton's son Josh–who from the back of his car produced amazing grilled pizza, lollipop lamb chops and of all things–shrimp scampi!!  Grandson Grayson is a bundle of joy and activity, and he keeps Josh and Oni on their toes–it's always so much fun to visit them. We enjoyed several Broadway plays in NYC on the way home, connecting with Shellie's high school friend LouAnn, and serendipitously running into our new friend Jeff whom we had just met in Ireland!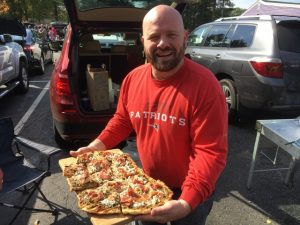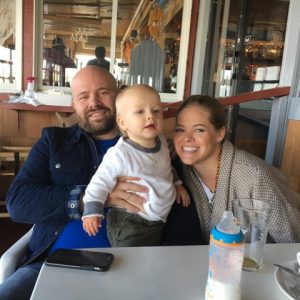 Jill and her family came out to Denver to celebrate Christmas with Al, and we managed one day in the mountains for a dogsledding adventure. So great to have the family together, thanks to our dear friends who lent us their Denver condo to accommodate all 6 of us.  (You know who you are!)  Silverthorne's 9,000 ft elevation is just too much to ask of Al these days but thankfully he is doing well and is very involved in creating new paper mache sculptures in his studio–baseball pitchers are his favorite subjects and he is pleased with their popularity among collectors.
Our best wishes to all and hopes for peace in the coming year!
Shellie and Milton